Winter is here and so this is the right time to wear scarves. Add them to your wardrobe and use as your style statement. So, how to wear it? There are many ways you can style them. Few quick ways to wear them as described below for you.
Take your scarf over your neck such a way that both the diagonal ends fall in the front and they reach your stomach. Take a belt and cinch it at the waist. Use this style when you wear a tee shirt and jeans.

If want a classic look, then take a printed scarf and drape it under the lapel of your blazer or jacket.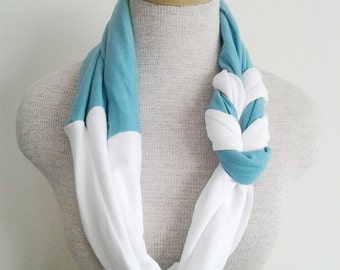 You can also loosely drape the scarf round the neck for good breezy feel.
If you are wearing monochromes, then add colour by wearing a colourful scarf to your bag.
Try the cowboy knot so the the rest of the scarf rests on your shoulders.
How about the boho chic look? Tie the scarf in a waterfall draping style.
For traditional look use a khadi silk scarf with your ethnic outfit.
If you love fusion look, get a traditional pashmina or jamawar scarf for your T-shirt.
For a feminine chiffon blouse, you may like to use a nude coloured stole to double up like a dupatta.
If you want a carefree or a casual street style, then why don't you wear denim on denim and wear the stole on freely. You can call it double denim style.

Various Styles to Try:

1. Braided knot: Take a long scarf width wise and fold it exactly into half. Now place it around the neck such a way that there is a loop on one side and the other side has the loose end.Now pull the loose end side through this loop.
Give this loop a twist which will lock the first end creating a second loop.
Now pull the loose end through this new loop and then tighten it.
2. Waterfall Drape: Wrap the scarf loosely twice round your neck and tuck the right corner on the left side.
Now take the left end of the scarf and tuck it underneath the left side.
3. Infinity Scarf: Tie both the ends of your scarf such a way that there's a large loop. Wear it over the neck such a way that the knot is on the back of your neck.
Now twist the scarf and put it over the head yet again so that there are two layers.
If the scarf is long and silky enough, you can make one more layer with it the same way you did for the second layer.
Make sure to cover the knot which is behind your neck with the help of a layer.